Lagrange
Lagrange is a desktop GUI client for browsing Geminispace. It offers modern conveniences familiar from web browsers, such as smooth scrolling, inline image viewing, multiple tabs, visual themes, Unicode fonts, bookmarks, history, and page outlines.
Like Gemini, Lagrange has been designed with minimalism in mind. It depends on a small number of essential libraries. It is written in C and uses SDL for hardware-accelerated graphics. OpenSSL is used for secure communications.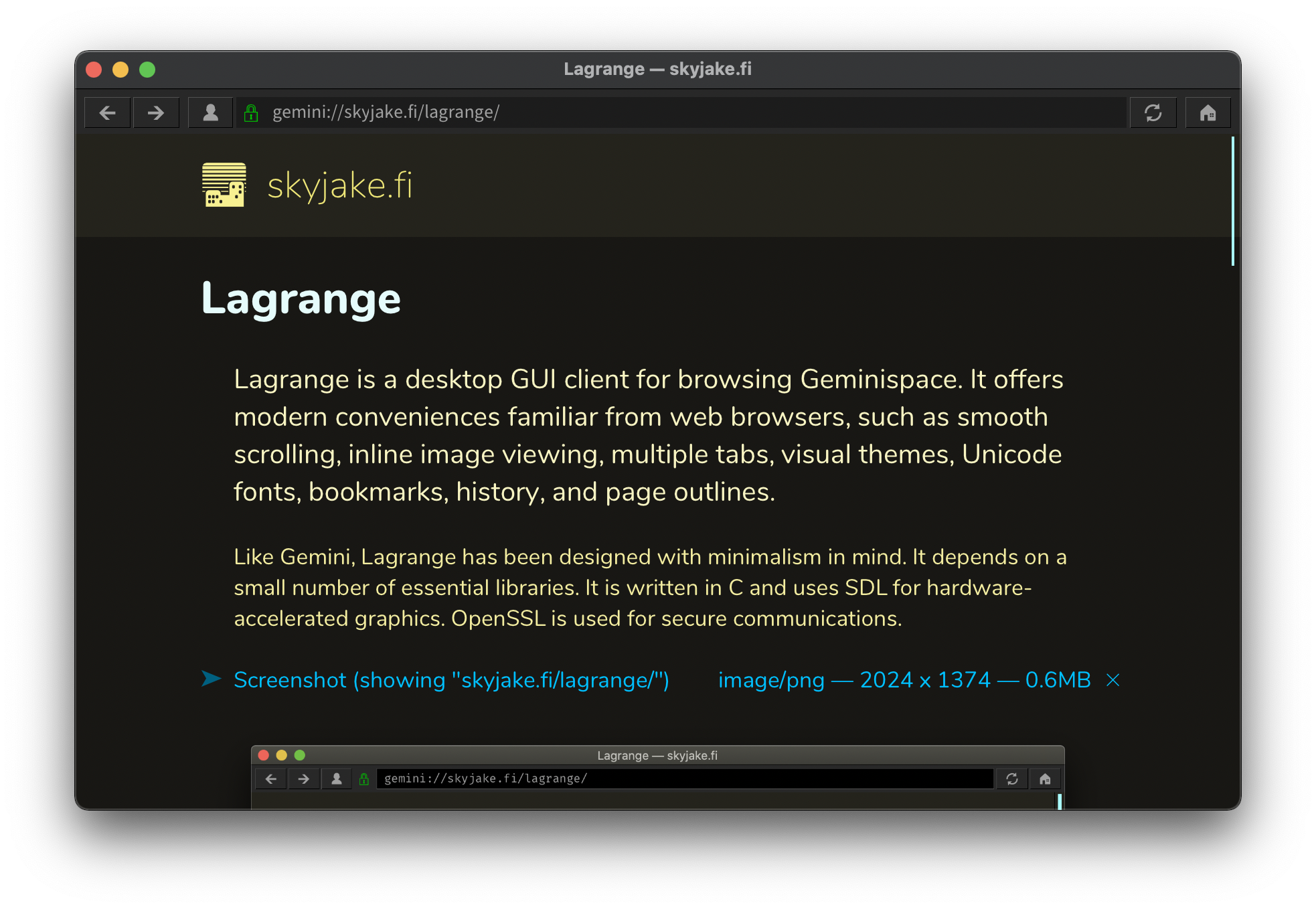 Features
Beautiful typography using Unicode fonts
Autogenerated page style and Unicode icon for each Gemini domain
Smart suggestions when typing the URL — search bookmarks, history, identities
Sidebar for page outline, managing bookmarks and identities, and viewing history
Multiple tabs
Identity management — create and use TLS client certificates
Audio playback: MP3, Ogg Vorbis, WAV
And more! Open `about:help` in the app, or see help.gmi
Downloads
On Linux and other platforms, you'll need to compile the source tarball (CMake).
What's new?
v0.10
This version focuses on small improvements for a nicer user experience.
Image loading option: Space/↓ loads next image instead of scrolling, if an image link is visible.
New link navigation mode that focuses on the home row keys.
Keybindings can be erased and reset.
Support for Gemini proxy servers.
Improved fonts: replaced EB Garamond; added new Japanese font for better coverage.
URI parsing improvements.
Saving inline content to Downloads.
Page search shows when match is inside a link URL.
Reorganized Preferences dialog.
Fixed download progress indicators overstaying their welcome.
Feedback
If you have questions, comments or improvement ideas, you can reach me via:
See also