Lagrange
Lagrange is a desktop GUI client for browsing Geminispace. It offers modern conveniences familiar from web browsers, such as smooth scrolling, inline image viewing, multiple tabs, visual themes, Unicode fonts, bookmarks, history, and page outlines.
Like Gemini, Lagrange has been designed with minimalism in mind. It depends on a small number of essential libraries. It is written in C and uses SDL for hardware-accelerated graphics. OpenSSL is used for secure communications.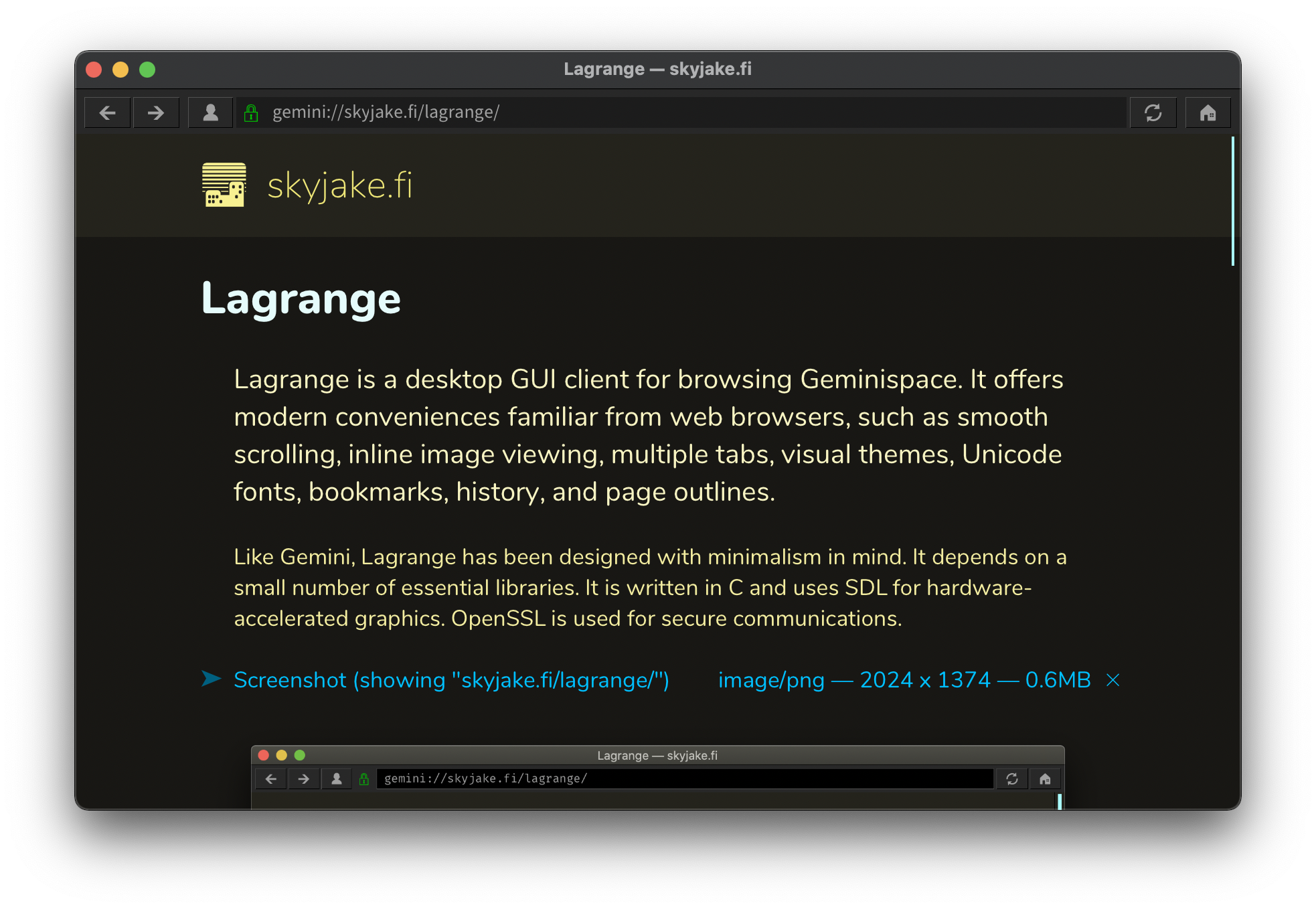 Features
Beautiful typography with full Unicode support
Autogenerated page style and Unicode icon for each Gemini domain
Smart suggestions when typing the URL — search bookmarks, history, identities
Sidebar for page outline, managing bookmarks and identities, and viewing history
Multiple tabs and split view
Identity management — create and use TLS client certificates
Audio playback: MP3, Ogg Vorbis, WAV
And more! Open `about:help` in the app, or see help.gmi
Downloads
On macOS you can install and upgrade via Homebrew:

brew install --cask lagrange

Please check MacPorts if you are using macOS 10.12 or older.
On openSUSE Tumbleweed:

sudo zypper install lagrange

On other platforms (e.g., *BSD), you'll need to compile the source tarball (CMake).
What's new?
v1.9
Automatic updates on Windows and macOS.
UI improvements: sidebar toggle button, unsplit button, sidebar context menus, feeds action toolbar, Ctrl+A to select all.
New UI language: Turkish.
Heading font tuning.
History navigation skips over input prompts for an improved browsing experience.
The resources.lgr file is now a ZIP archive.
Bug fixes: handling duplicate feed entries; page layout when footer buttons are visible.
(v1.9.1) Added a "24-Hour Time" setting. H3 indented like text lines. Bug fixes: crash when creating a bookmark; missing page timestamp; various issues with tab button layout and labels.
Feedback
If you have questions, comments or improvement ideas, you can reach me via:
Known issues
Flatpak
Flatpak applications run in a sandbox that limits their access to the rest of the system. At the moment, Lagrange has not been fully adapted to use Flatpak Portal APIs, so the following are known issues:
Unable to open HTTP/HTTPS links via the default browser.
Multiple instances of the application overwrite each other's data.
Documentation and tutorials
A thorough walkthrough of how to upload text and files via Titan using the (beta) version of Lagrange on an iPhone.
See also